LEED AP BD+C, I2SL Benchmarking Working Group
What does a sustainability coordinator do?
"I'm most often answering questions related to the energy code and sustainability items that our engineers are considering for their projects. I'm involved in the early stages of new project pursuits, to help the firm scope and prepare the energy pieces for interviews. I handle a lot of management for the LEED projects that include our MEP designs. I also do education, both in-house and at conferences, on the energy code. And, of course, I'm also running the HVAC engineering projects that I own as well."
Is sustainability a big part of most BR+A projects?
"There's definitely some amount of sustainability and energy efficiency on every BR+A project. For a small renovation, for instance, we're probably just working to ensure that we're meeting the energy code. For new projects, lots of owners and architects are considering net-zero lab design ever since our success with Bristol Community College—and there's everything in between. Most projects have a significant amount of energy pieces to them, whether it's energy modeling or thinking about sustainability strategies that are really marketable, and lifecycle calculations to determine the payback of strategies that a project is considering."
How did you become an engineer—and what led you to sustainability?
"I was in an architectural engineering program at Wentworth Institute of Technology. I knew I wanted to be involved with architecture, even though I didn't want to be an actual architect. I did a co-op with BR+A and I really enjoyed the work, so I decided to come back and join the firm after graduation. Once I got working on projects, I had the opportunity to do some energy modeling and LEED work for projects that I was on. Over time, that LEED work began extending to other projects I wasn't directly involved with—and my role just expanded from there. So, it wasn't necessarily what I set out to do, but it's become a very good fit for me.
With the way the world is going, sustainability is increasingly how things have to be. Energy codes change every three years and different states adopt codes at different times. We realized, it was just hard for every engineer to keep up—and we needed someone to stay on top of it, and to coordinate it all. I work with a team here that really focuses on keeping BR+A and our clients educated about what they need to do, and what they should be doing."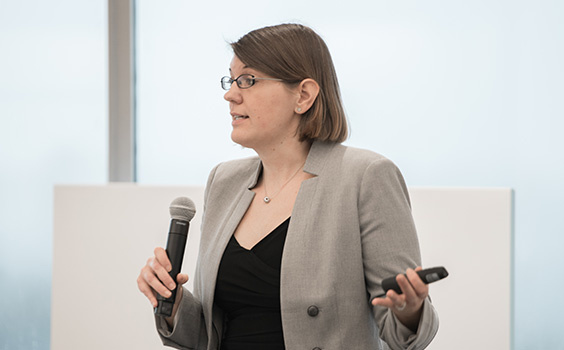 What interested you about BR+A as a firm?
"The types of projects that BR+A handles are really exciting. When you work on a lab or a healthcare facility, especially on the scale of the projects we do—600,000, one million, two million square feet—there's never a dull moment. There are lots of very specialty pieces of equipment being installed, a lot of challenges, a lot you have to figure out. So that keeps it interesting for me. We've worked on different cancer research facilities, vivaria, places where, potentially, they'll be able to find the cure for cancer and move medical discovery forward in the world."
Why is now an exciting time to be an engineer?
"If you look around just about any city, you'll see cranes everywhere...it's just incredible. There are just so many opportunities out there. And there's so much that we can do from a sustainability standpoint—especially as more and more people shift from code minimum to thinking about getting to net-zero—there are so many innovative technologies coming out to get us there. And these will become the norm very soon. Being on that leading edge, knowing it's going to affect the industry and provide new opportunities, is really exciting."
So, what's the key to making a sustainability project work?
"It takes everyone. Sustainability is not something the engineers or the architects can do by themselves. You need to have everyone onboard…not just on the design side, but operationally, and even the users. Such a huge amount of the energy usage for buildings is related to what the occupants do every day. If you want to have that best-in-class building, you need to have everyone onboard and actively involved and understanding how a building was designed and intended to be used. That's what makes the difference."