Owner
The Eli and Edythe L. Broad Institute of MIT and Harvard
Project services
Fire Protection
Plumbing
Mechanical/HVAC
Electrical
Energy Modeling
Sustainability Consulting
Technology/Security
When the human genome was finally sequenced, it heralded a new era of medical discovery. The Broad Institute was founded as a joint initiative between MIT and Harvard University to seize this unique opportunity to "advance our understanding of the biology and treatment of human disease, and to help lay the groundwork for a new generation of therapies."
In 2007, the Institute was eager to expand its headquarters to create a more campus-like environment. The new 15-story, 375,000 sf Stanley Building includes offices, flexible state-of-the-art chemistry and biology lab space with robotics and advanced supercomputing, a 30,000sf vivarium, and cleanroom suite—all of which greatly expands the Institute's footprint and its capabilities for research and discovery.
Located in the Kendall Square innovation district of Cambridge, Massachusetts, the Broad Institute sits on a relatively small wedge of property in a densely populated and heavily developed urban setting. Nearly two-thirds of the proposed site was occupied by the Institute's existing parking structure; creating a campus here seemed nearly impossible.
The building's architects, Elkus Manfredi, came back with a stunning design: a sliver-like building that rose up and over the parking structure to connect to the Institute's main building. The question was, where to fit all of the mechanicals?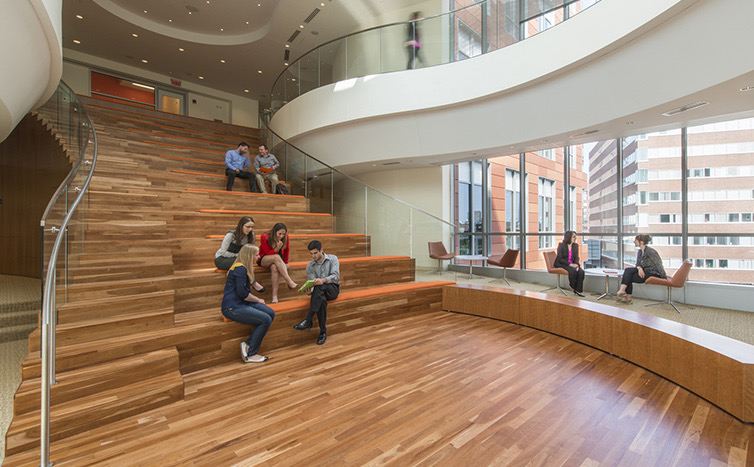 Because the building lacked a traditional basement space for HVAC systems, coupled with the fact that Kendall Square has an extremely high water table, BR+A needed to design the mechanical systems to fit within three floors of the building's upper levels. And everything had to be redundant to support the lab's temperature-sensitive research.
Using Revit with co-location "Clash Detection" efforts, BR+A was able to spearhead and streamline the coordination process to make the incredibly complex project as efficient as possible. The final installed system included four high efficiency hot water condensing boilers, three 1,000-ton electric centrifugal chillers, plus two 450-ton chillers for the process chilled water system, and a 250-ton plate and frame heat exchanger water-side economizer.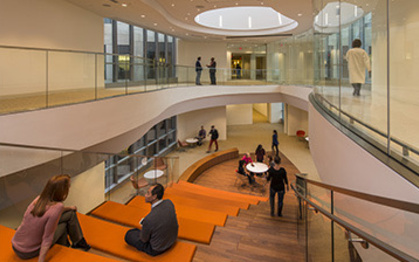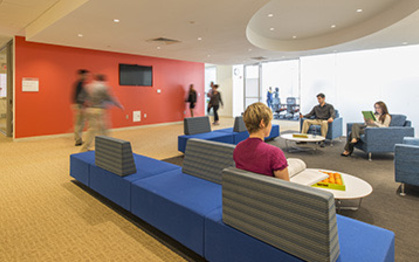 Today, the Stanley Building at the Broad Institute is helping to foster incredible new medical breakthroughs, from chemical biology and therapeutics to CRISPR genome editing technology. The building infrastructure not only supports the flexibility for emerging programs and ongoing renovations—but also sets a new standard for lab and building design in increasingly dense urban environments.